Word of the week: full stop
n period. The little dot at the end of a sentence, not the part of the menstrual cycle. Brits also use full stop for emphasis the same way that Americans use "period": And I says to him, I'm not putting up with this any more, full stop.
Weekly Word
Get a British word a week in your inbox. Amaze your friends. Offend your relatives.
There's a book!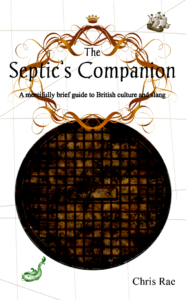 Of course there's a book. You should find out more about it somehow. If only there was a way.