Word of the week: fanny
n female genitalia. This is another word which could leave you abroad and in dire straits. In the U.S., your fanny is your posterior and a "fanny pack" is what Brits decided to call a "bum bag" instead. There's a neoprene belt sold in the U.S. that is designed to stop snow from entering your ski jacket during a fall. It is marketed under the name "Fanny Flaps." It is not for sale in the U.K.
Weekly Word
Get a British word a week in your inbox. Amaze your friends. Offend your relatives.
There's a book!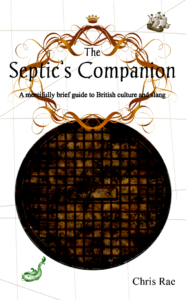 Of course there's a book. You should find out more about it somehow. If only there was a way.