Word of the week: train-spotter
1 n a person whose hobby is to, well, spot trains. They stand in railway stations or on bridges and note down the types and serial numbers of any trains that go past. I was fortunate enough to be in Reading Station one afternoon while a train-spotting convention was in town; the place was a sea of bright yellow reflective jackets and they had video cameras set up on each platform. Perhaps it's a social thing. Anyway, the term was made a household one by Irvine Welsh's excellent book, Trainspotting, which is not about spotting trains. 2 n nerd. Stemming directly from the prior definition, this word has come to mean anyone who is a little too engrossed in one particular none-too-interesting subject, and probably a virgin.
Weekly Word
Get a British word a week in your inbox. Amaze your friends. Offend your relatives.
There's a book!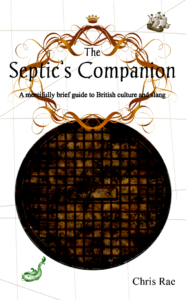 Of course there's a book. You should find out more about it somehow. If only there was a way.