Word of the week: high tea
n evening meal; dinner. Derives from the fact that the meal was typically eaten at the dinner table (the "high table") rather than the tea table. This usage has become something antiquated recently and the term "high tea" has morphed to refer to the expensive afternoon teas one can buy at posh hotels in the U.K.
Weekly Word
Get a British word a week in your inbox. Amaze your friends. Offend your relatives.
There's a book!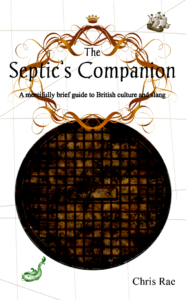 Of course there's a book. You should find out more about it somehow. If only there was a way.