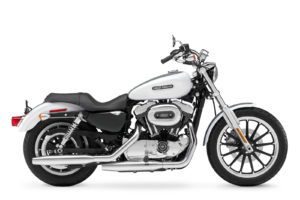 So I'm something of a Car Guy, but let it be said that I like motorcycles as much as the next man. They look nice, they're fun and they're fast. My, they're fast. Driving a car quickly is a fairly cerebral experience, whereas riding a motorcycle at pace is more like a test of virility.
There are fast bikes made all over the place. The best ones mostly come from Japan, but some of the greats come from Italy, Germany – even the United Kingdom, who appear to be less shit at making bikes than they were at making cars. The best way to see a bunch of fast bikes is to turn up at the Nürburgring on a Saturday afternoon and hunt around the car park. Ah, the smell of mineral oil and the rattle of those Ducati dry clutches. This is the life.
There is, however, one motorbike that you're not going to see at the Nürburgring on a Saturday afternoon. That motorbike is the two-wheeled abortion known as the Harley Davidson.
There are two things wrong with Harley Davidsons. The first thing is technical. I've not ridden one, so I don't know how they drive. Instead, I'm going to guess how they drive by comparing some vital statistics of the 2009 Harley Davidson Sportster 1200 Low (which appears to be one of their sportier models) with the 2009 Yamaha YZF-R6, one of the Japanese efforts. Perhaps the best way to represent this is in a table. Please excuse the American units of measure – it was all Harley had and I couldn't be bothered converting them.
| | | |
| --- | --- | --- |
| | Yamaya YRF-R6 | Harley Davidson Sportster |
| Engine size | 599 cc | 1200 cc |
| Power | 126 bhp | 80 bhp |
| Weight | 414 lbs | 581 lbs |
| 0-60mph | 3.6 secs | 5 secs |
| Top speed | 165 mph | 110 mph |
| Price | $9,990 | $9,799 |
Based unfairly on these numbers and my own preconceptions, I'm going to guess that a Harley Davidson drives like a Dodge Durango. I bet I'm right. Anyway, either way it's clear from this that the Harley Davidson Sportster wasn't designed with sport in mind. But cars are more comfortable, drier, more practical overall – what was it designed for? Which brings me nicely to the second thing that is wrong with Harley Davidsons.
The second thing that is wrong with Harley Davidsons is that they are one of the greatest triumphs of marketing ever to exist. This is done in part by the Hell's Angels Motorcycle Club. The Hell's Angels is a group of unemployed misfits and small-time cat burgulars who are scattered around the world. Every so often they hit the headlines when one of them punches a woman outside a nightclub, or strangles his dog, or chokes to death on his own vomit. One thing they have in common is that that all happen to own Harley Davidson motorcycles. You have to have a Harley to get into the club.
Harley Davidson, of course, don't officially have any relationship with the Hell's Angels. Officially, they're pretty angry with them. That's the way it has to work. Harley Davidson knows that scattered all over America are bored dentists, middle-aged stockbrokers and lonely realtors who are sitting in front of the television watching their lives ebbing away. They have money in the bank, but they've already bought a house in the suburbs, a brown dog and a silver BMW 525. They can't think of anything else to spend it on. More importantly, their wives are complaining about their rapidly receding hairlines and increasing levels of impotency. But wait! Breaking news on the television! Some Hell's Angels have broken a window in a bar downtown! There they are on television, with their tatoos, and all that leather gear and their Harleys. I bet they're not impotent! I bet their wives don't talk back to them! And all I need to do to join that club is ten grand!
So the morticians and the lawyers run out and buy Harleys. They don't join the Hell's Angels. It would be too difficult to explain in church. They do buy leather jackets, and patches with skulls and crossbones on them. They do buy helmets with "ride or die" and such on them. They do meet up with other similarly-minded individuals, where they stand on street corners in their leathers and talk about the Dow Jones, or about  interest rates, or about how difficult Thomas is finding it settling in at Yale. One or two of them will sometimes smoke, and now and again someone will turn up with a beer. Passers-by cross the street to avoid these meetings, which gives the dentists a strange, inexplicably heart-warming sensation. They're radicals. They're on the fringes of society. They're alive. Before they go home, they collect their litter.