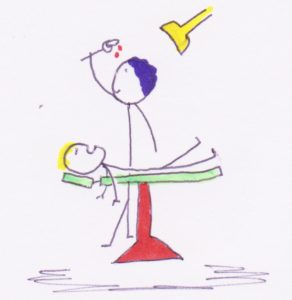 One thing the Americans are very proud of is the ease and effectiveness with which they can remove body parts that were causing their owners no trouble whatsoever.
One thing I am very proud of is my foreskin. I've had it since I was born and, at least up until the time of writing, it has not gone gangreenous and dropped off, or revealed itself to be harbouring Anthrax. Most American men, however lost theirs during their very first pointless removal of a body part. The Wikipedia article goes into some detail about how exactly this is removed. Those of you with intact foreskins and delicate stomachs may wish to avoid it.
Having escaped this first pointless amputation by not being born in America, I was caught full in the face a couple of months back by the traditional second wave of pointless body part removal. This began with a seemingly mundane conversation whilst at the dentist.
[I am flat on my back in the chair – my dentist is peering into my mouth]
Dentist: Ah-hum. You have some decay on the back of your ante-posterial pre-prandial molar.
Chris: Gar.
Dentist: [Strains a little] It's really… hmm, it's really quite far around the back.
Chris: Oark.
Dentist: Yes, as I thought, it's really right up against your wisdom tooth.
Chris: Gung.
Dentist: Well, I think the best thing is probably to have the wisdom tooth out before I try and cap it.
Chris: Gout?!
Dentist: Once those are out, it'll be easy to get at.
Chris: GOSE!?
Dentist: It's really quite a simple procedure – I can recommend a great guy just down the hallway.
[Dentist retracts from my mouth, and casually steers me back to an erect position]
Chris: Do I really have to have them out?
Dentist: It's really a very simple procedure. You'll hardly feel a thing.
Chris: But… umm, I mean, is there something wrong with them?
Dentist: Look, I'm just talking about taking your wisdom teeth out, it's really very simple.
Chris: Are they decayed?
Dentist: It's all covered by your insurance.
Chris: How many of them are there?
Dentist: Three. They're not under the skin or anything, so it'll really be quite easy.
Chris: Just to get at this one tooth?
Dentist: Chris, really, pretty much everyone has them out.
Chris: Oh.
Dentist: It's all covered by the insurance.
Chris: I see.
[The dentist reaches for his pen]
Dentist: I'll write you a referral.
Obviously I realised that the dental industry had some sort of vested interest in this particular pointless body part removal, so I decided to raise my concerns with some friends. This is how this conversation went.
Chris: So, the dentist says I have to have my wisdom teeth out.
Steve: You've not had them out yet?
Chris: Well, no, I didn't really think –
Ryan: Man, you're going to hurt for days.
Steve: Yeah, jees, you're going to be sore.
Chris: Why did you have yours out?
Steve: Oh, years ago.
Chris: Not when, why?
Steve: What?
Ryan: They're wisdom teeth, dude, everyone has them out.
Chris: Were they rotten?
Steve: I don't know, I have them in a bag somewhere, I could look at them. They had bloody bits of gum stuck to them.
Ryan: You're really going to hurt. I was eating soup for a week.
Steve: Yeah, I was off work for four days.
Ryan: It's going to be brutal.
Chris: Steve, do you have a foreskin?
Ryan: Steve's Jewish, man.
Steve: Are you being racist again?
Ryan: Why do you have to keep on with the Jewish thing?
Chris: Forget it.
So I went to the wisdom tooth removal guy. He quickly and efficiently removed my wisdom teeth. It cost somebody $1800. I hurt for a few days. He gave me a selection of Vicodin pills, which turned out to go very nicely with beer but created the mothers of all hangovers. Once all the Vicodin had gone I slipped into the silent mass of people in American who've had limbs removed on the advice of people they barely know.
I'm starting to realise how Bush got elected.